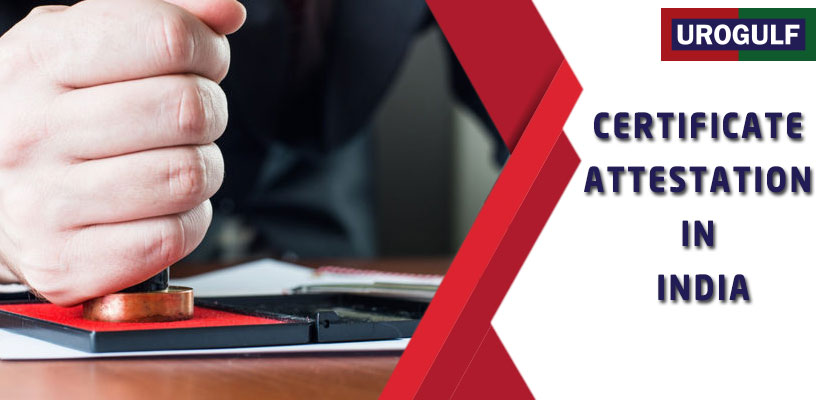 Certificate attestation in India is an important procedure for Indian students and professionals who are planning to immigrate to foreign countries for educational and employment purposes. Certificate attestation is a mandatory requirement for authenticating Indian issued documents to use in foreign countries.
Certificate attestation in India is mainly required for educational, personal and commercial documents issued in India. These attested documents are required for verification purposes to avoid fraud, forgery and misrepresentation of documents abroad.
Document attestation is required for getting a work visa, or a residential visa abroad. It is also needed for getting a spouse visa or family visa. In many countries, to get social security benefits, you are required to submit attest personal documents of your family. Certificate attestation is also required for setting up a business in foreign countries or getting admission in foreign countries.
The process for Indian certificate attestation varies depending on the type of the document and the country you are immigrating to. The main procedure for attestation is as follows:
For Educational documents
HRD attestation: HRD attestation is done only for Govt recognized educational documents. It is done from the respective state HRDs.

MEA Attestation/MEA Apostille: If you are going to a Hague convention member country, then you are required to get Apostille attestation from the Ministry of External Affairs. For travelling to non-member countries, you need only MEA attestation.

Embassy Attestation: You are required to attest your documents from the embassy of the country you are intending to travel.
Notary Attestation: It is done for personal documents like birth certificate, marriage certificate, death certificate, Affidavit, etc. You can also do SDM attestation from Delhi.

MEA Attestation/MEA Apostille: It is done by the Ministry of External Affairs. It is mandatory for getting embassy attestation.

Embassy Attestation: Attestation from the embassy of the country you are intending to travel
Chamber of Commerce Attestation: Commercial documents are attested from the respective state Chamber of commerce.

MEA Attestation/ MEA Apostille: MEA/MEA Apostille depends on whether you are immigrating to a Hague member country or not from the Ministry

Embassy Attestation: Attestation from the embassy of the country you are intending to travel
Want to know more about certificate attestation process in India? To know more about Indian attestation procedures please visit,